Check in: Marathon training with Kiera Smalls
It's been two months since you heard about my quest to complete my first marathon. To give you a quick refresher: I am training for the New Jersey Marathon that's taking place on May 1st, the day before my 27th birthday! I had no idea what to expect from training and was lucky to have support from a certified coach and awesome community. Keep reading to see how it's going.
NEW YEAR'S RESOLUTION
In January, I was pumped to get started with training. I had all the tools I needed (a coach, meal plan, proper gear and self-motivation). Training for a marathon was one of my resolutions and I'm proud to say that I've been sticking to it!
My coach, Marcy Gialdo, uploads my training plan via the TrainingPeaks app. She uploads my plan- every run and workout - on a monthly basis. This works great for me because we talk about my successes and challenges before she finalizes the next month's schedule.
I stuck to every run in January. Even the long run that I had orginally scheduled in South Beach for the Miami Half Marathon that was cancelled (for me) because of snow storm Jonas in Philly. I am proud to say my first snow run was a success! I have to give a major shoutout to my friends Lia and Heather for braving the weather with me and getting in their miles too.
My nutriton has been solid for the most part. I'm pretty simple when it comes to food. Thanks to 22 Days Nutrition, I properly refuel after every run / workout with their protein powder. I haven't had any issues so far with muscle recovery and performance.
MUCH NEEDED SUPPORT
I kept positive the entire time and I know it was mostly because of the City Fit Girls community and my social media friends. I very rarely have to run alone which is great for accountability and pushing me past my "limits". For example, I had to go to Delaware to visit family and needed to run 12 miles. Another woman from our crew named Camilla offered to come down to Delaware to help me clock those miles. She has family in DE and didn't mind joining. This was SUPER helpful because I would of had no clue where to run for 12 miles in Delaware and would have rescheduled the run. Camilla, you are a freaking rockstar. The run would not have happened if it wasn't for you.
Almost all of my long runs had a similar story. There was one Saturday long run where I was going to reschedule for Sunday (no real reason why). However, there was a woman from New Jersey that wanted to run with City Fit Girls' Philly Run Club. She said she's never able to join us because of her schedule but on that particular date she could. We were the same pace so I told her that I would love to run with her. I am SO GLAD I did. We ran 14 miles together and had a great conversation. Ashley, thanks for joining us and thanks for the motivation.
FEBRUARY WAS A LITTLE TOUGH
While 80% of my training has been positive, I experienced some set backs in February. On some days where it was extremely cold, I decided to run on a treadmill and it was awful. I tried music, I tried podcasts and I even tried talking to myself but it was unmotivating and it got the best of me. Some of my 3-5 mile runs became 1.5 or 2 miles followed by speed walking. Some days I was just being lazy...
During the last week of the month, I caught a cold. I believe it was a combination of burnout + stupid winter weather. I grew a stuy on my eye and didn't get much sleep. I missed some workouts and felt defeated. Despite this feeling, I knew I had a long run coming up that I absoloutely didn't want to miss. It was the last long run for the month and was my offical half way point.
I am happy to report that I had a successful long run despite being sick! I had trouble breathing during the first 3 miles and then my lungs loosened up and I felt much better the remainder of the time. At the end of the run, I felt like I could of gone even further (woohooo!). It also helped that we had beautiful weather.
WHAT'S MOST IMPORTANT
If you would have asked me last year if I was ever going to run a marathon - let alone run more 13.1 miles - I would have laughed. Today, I say, you're damn right I'm a runner. Running is a huge part of my life now. From the time spent clocking miles to the friends I surround myself with. Running is bae.
I always have to remind myself why I signed up for the big 26.2 (because you're no longer half crazy, you're all the way crazy right?) so I think a lot about the organization I am raising money for. Gearing Up provides provides women in transition from abuse, addiction, and/or incarceration with the skills, equipment, and guidance to safely ride a bicycle for exercise, transportation, and personal growth. I love biking just as much as I love running and this is a great program that helps a lot of women in need. During my first month of training, I raised over $700 thanks to friends and family. To date, I have raised almost $1,200! I have 60 days left to fundraise and I know I can reach my goal of $2,600. I am not just running to complete a race, I am running to help change lives.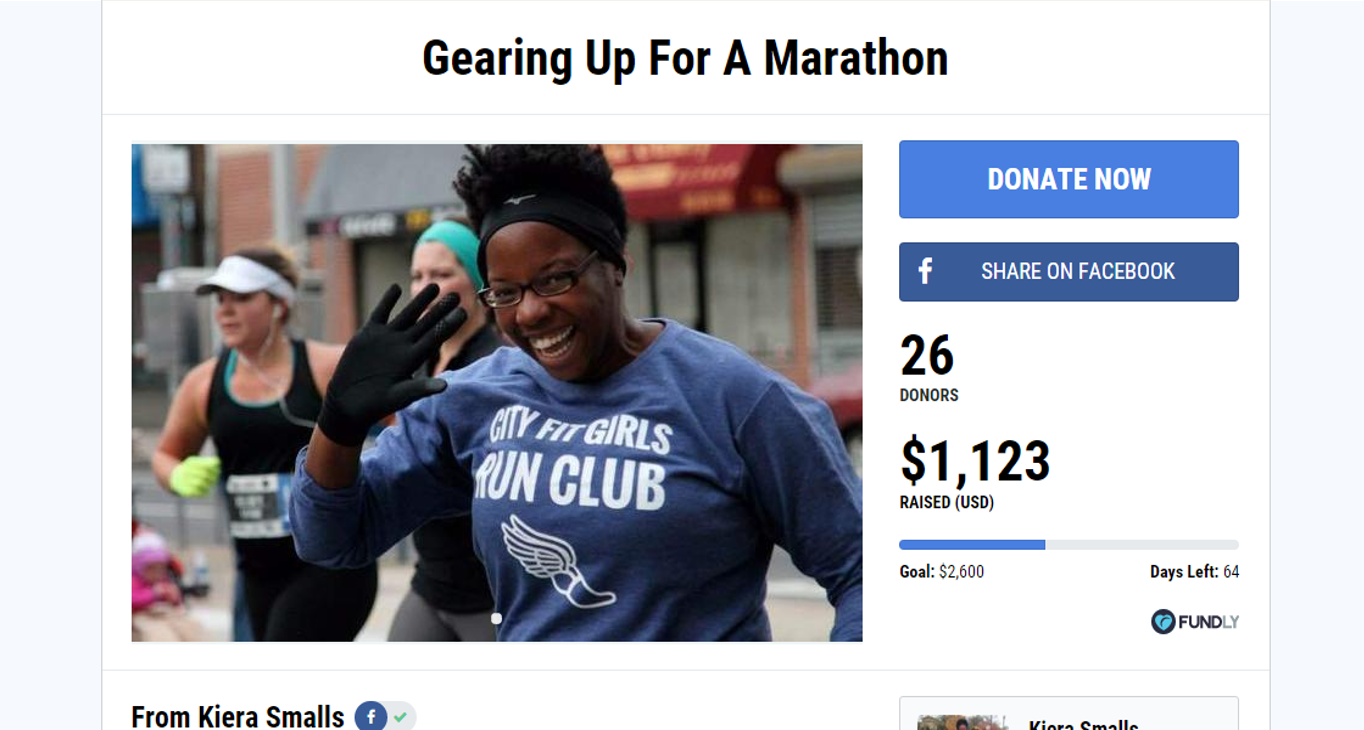 I may have had some ups and downs with training but I wouldn't want to have it any other way. I 'm learning a lot about myself and meeting a lot of great people. I've gone from an asthmatic wannabe runner who spent a lot of time in the ER to a runner on a quest to complete her first marathon. If I can do it, anyone can do it. Trust me.
I have two months left for training. The miles are getting longer and the pressure is ON. If you want to run with me or stay updated, feel free to follow me on social media @KieraSmalls. You can also view the hashtag #Smalls26 on Instagram to see more of my training experiences. I'll do a March check in and then an April check in. Time to turn things up a notch.
Like this article? Get more posts, resources and training tips delivered to your inbox every Monday morning.Sign up here.